We hope you had a wonderful day in the glorious sunshine yesterday and are able to enjoy it today too.  We can imagine you all having fun playing with water and eating ice lollies. Today is all about understanding the world and…….. ice lollies!
Task 1 – Make ice lollies and talk about ingredients and temperatures
So our first task is to explore melting and freezing.  Can you make your own ice lollies together – it would be great if you could make some really healthy fruit juice lollies.  Talk about what ingredients you would need.  How are ice lollies different to ice creams?  Which is healthier? What ingredients do you think the Gruffalo would use if he was to make an ice lolly? Talk about why and how liquids freeze into solids. Talk about the temperature involved – the air temperature today is 22 degrees celcius, inside a fridge is 5 degrees and inside a freezer is 18 degrees below zero.  Water freezes at zero degrees celcius.  Talk about which is colder/warmer.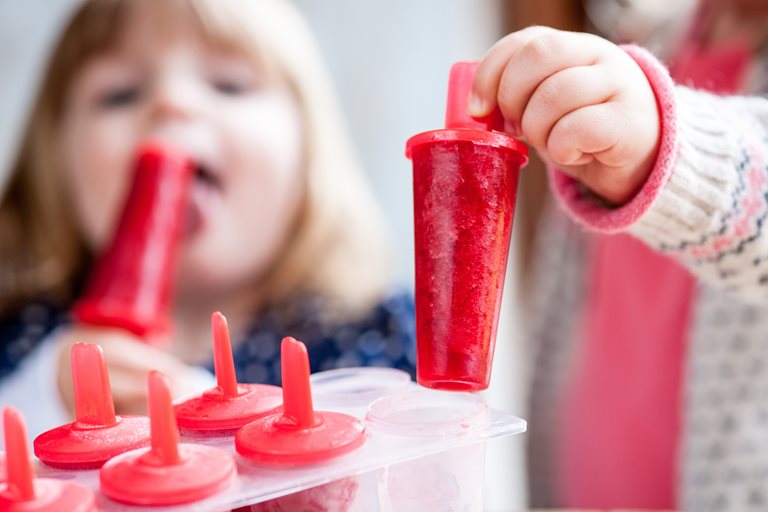 Task 2 – Make a tray of ice cubes and observe the changes in size
Make a tray of ice cubes and observe how the states of matter change.  This works best if you fill the tray right to the top.  Take a photo of the tray of water before going into the freezer and compare it to what the water looks like afterwards.  Can you see how the water is now ice and it has expanded.
Task 3 – Explore Melting
This can be done in  many ways.  You could freeze different sized or shaped 'cubes' and then watch them melt in the sun and see which ones melt the quickest.  You could freeze the same shape and size and watch them melt in different places: sun/shade/fridge/palm of Mummy's hand/in the paddling pool etc.  Talk about why the melt at different speeds.  Imagine if the mouse in the Gruffalo story had to try to carry ice from one side of the wood to the other, talk about how he could do that without them melting.  How would you keep a picnic cool?
Task 4 – Draw/collage/paint your perfect ice lolly.
You could draw/collage your dream ice lolly, or the ice lolly you actually made.  If you can then label it with as many words as you can.  You can label the colour, temperature, ingredients, for example:  green, yellow, ice, cold, freezing, lolly, fruit, frost, – some of these words are tricky to spell phonetically.  Explain that sometimes words have very tricky sounds – just like the key words you are always practising.
Have a 'lollitastic ' day everyone! Have fun and enjoy science in action in the best possible way!
Stay Safe!
The Reception Team